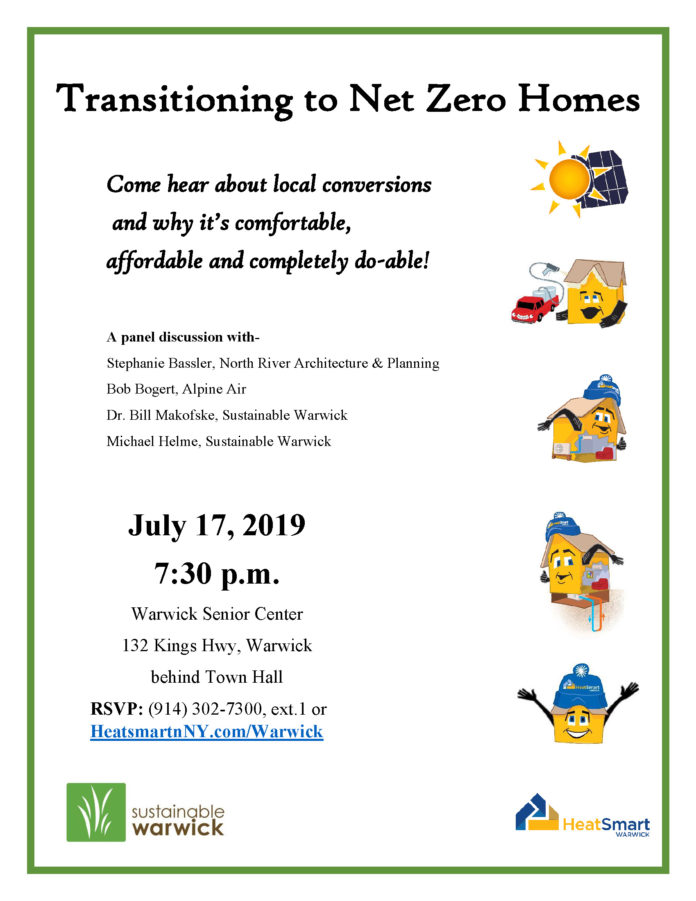 On Wednesday, July 17, 2019, Sustainable Warwick will host a panel discussion entitled "Transitioning to Net Zero Homes: Why It's Comfortable, Affordable and Completely Do-Able".
The meeting is at 7:30 p.m. in the Senior Center located behind Warwick Town Hall at 132 Kings Highway, and everyone is welcome to attend.
The panel will include:
Stephanie Bassler, an expert in sustainable and green building design, a Certified Passive House Consultant and co-founder of North River Architecture & Planning. Bassler is also Vice President of the Passive House Alliance in the Hudson Valley.
Bob Bogert, a resident of Warwick and an expert on heat pumps. He is the owner of Alpine Air, which has a new office building in Chester that will become net zero when solar panels are installed.
Dr. Bill Makofske, an energy/environmental physicist, energy efficiency expert and designer of a net-zero energy-efficient passive solar home in Warwick. Makofske is a long-time member of Sustainable Warwick.
Michael Helme, moderator of the panel, has lived in Warwick for almost six years and has an almost net-zero home that was built in 1953.
Join Sustainable Warwick at the air-conditioned Senior Center and learn about clean, comfortable and affordable options for home heating and cooling. You might be surprised at how close you are to having a net-zero home.
To RSVP: (914) 302-7300, ext.1 or  HeatsmartnNY.com/Warwick