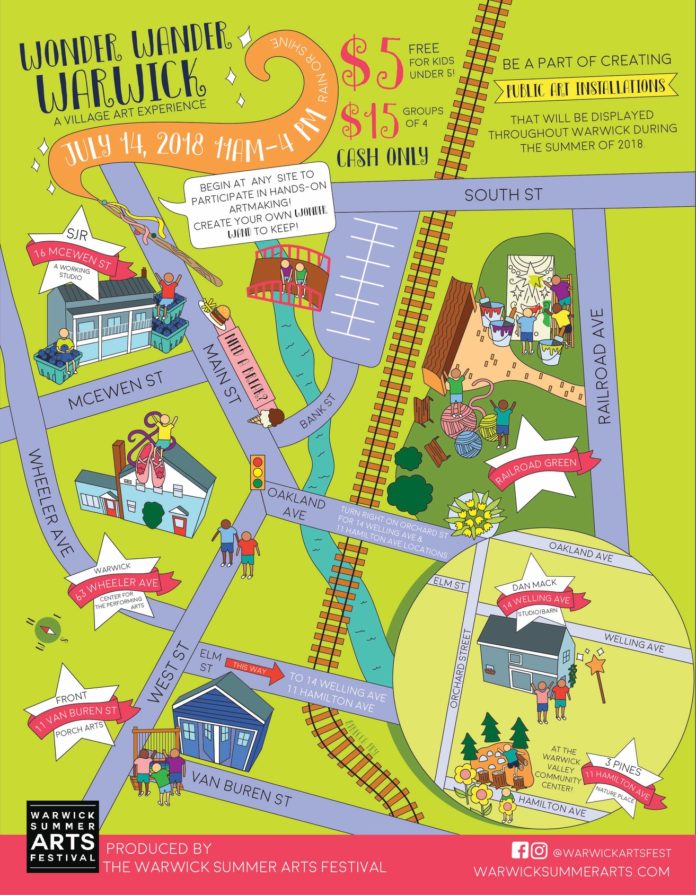 The Wonder Wander Warwick Art Experience event brings art making to public places for all ages to experience art both visually and as participants on Saturday, July 14, 2018 from 11am-4pm as part of the Warwick Summer Arts Festival. Collaborative groupings of artists will be located in off-the-beaten-path studio spaces, public businesses and community spaces throughout the Village of Warwick, NY. The sites, conveniently located within walking-distance in the Village of Warwick, will encourage visitors to spend the afternoon meandering along the village streets to appreciate art, witness the artistic process of artists creating new work, have a hands-on experience of making art and visit local shops and restaurants.
Participating artists will provide both visual and experiential presentations of their work including hands-on opportunities to experiment with clay pressing, paper flower making, movement mark making, interpretive dancing, interactive large-scale painting, crocheting with plastic "yarn" and more. At each of the six locations along the art walk artists will display their work and provide opportunities for guests to participate in hands-on experiences, including creating a Wonder Wand, a keepsake work of art. Select studio stops will have the necessary tools and materials to make mixed media artwork that participants can combine to create their own unique Wonder Wand. Many of the hands-on activities will result in collaborative, community-created temporary public artworks that will be displayed throughout Warwick for the rest of the summer. Guests will be provided with a map of the Wonder Wander Warwick Arts Experience sites to guide their walking tour throughout the Village of Warwick. Participating artists will also offer their art for sale at their individual locations.
Tickets for the event will be available at each of the Wonder Wander Warwick Art Experience locations at $5 per person for ages 5+ and $15 for groups of four or more (CASH ONLY) and include:
Artist-designed map;
Hands-on art making;
Creating a keepsake Wonder Wand;
Viewing and engaging with artists' creative processes of making art;
Shopping select artists' work.
Art Experience Sites & Artists
3 Pines Nature Place at the Warwick Valley Community Center, 11 Hamilton Ave., Warwick, NY:

Pick up a stick to transform into a Wonder Wand through embellishments made at various locations.
Marilyn Dale will demonstrate working with clay; visitors can experiment with pressing leaves, flowers, sticks, stones and other natural materials.
Linda Moakler will demonstrate the art of creating paper flowers. Visit an immersive "field of flowers" installation and make a flower for your wand.
Kerry Malone will lead participants in contributing to the creation of an outdoor miniature world" that will become part of 3 Pines Nature Place, using materials such as moss, sticks, rocks, clay, string, bark and more.
3 Pines Nature Place welcomes children of all ages and adults who are kids at heart to get creative digging, climbing and pretending. The 3 Pines Nature Place play area promotes fun, while teaching children to respect nature through creativity.
Daniel Mack Studio, 14 Welling Avenue, Warwick, NY:

Daniel Mack will be carving amulets and sculptures from stone and bark with a simple pocket knife and sandpaper, showing that art can be created from a variety of means that can be in the most simplistic of methods.
Timothy Hull will display pottery shards that are richly textured and patterned in washes, splashes and splatter as a creative component to making unique art.
David Horton will present drawings and artifacts from his series, The Life and Times of Dr. Thelonious Tinker, and provide a visual of his creative process.
Elisa Pritzker will display ceremonial objects from natural materials including stones, sticks and bones along with artifacts from within her studio. Elisa's inspiration comes from the shamanic ritualistic ceremonies and body painting of the Selknam People from Patagonia.
Riva Weinstein will offer instruction on collecting items that speak to the heart, leading to a creative transformation.

Warwick Center for the Performing Arts, 63 Wheeler Avenue, Warwick, NY:

Interpretive dance performances by the Warwick Dance Collective that invite visitors to move freely with the dancers. The performances will also be used as a creative fodder for Movement Mark Making.
Heidi Lanino Bilezikian presents Movement Mark Making capturing the dancer's movement on a large scroll with gestural marks. Heidi will guide participants in sharing and experiencing movement as marks and line on paper through painting with brushes attached to bamboo sticks. Inspired by calligraphic line and music, Movement Mark Making demonstrates how art can be experienced through chance, shape, line and movement. Participants will be encouraged to move around the co-created and evolving mural, experimenting with their own marks, while observing and reacting to the dancers. The final work will demonstrate the distinctive marks of each participant. The mural will become public art to be displayed throughout venues during the Warwick Summer Arts Festival.
Visitors can use the Movement Mark Making technique on a smaller scale on fabric ribbons to be attached to their Wonder Wands.
The interpretive dancers will wear hand-painted costumes produced by artist Karen Decher.

Front Porch Arts, 11 Van Buren, Warwick, NY:

Linda Mensch, past Village Artist-in-Residence and current Artist-in-Residence at Sanfordville Elementary School's PIE Program, will work with participants on a large-scale collaborative found-object weaving that will be displayed in Style Counsel's window on Main Street in the Village of Warwick, NY and in additional locations throughout the summer.
A Working Studio, 16 McEwen Street, Warwick, NY:

Stephanie J. Roth presents a work in progress for visitors to observe that portrays her personal and emotionally-charged style of painting. Her work depicts personal stories about relationships, families and self.
A hands-on activity, deemed the Berry Basket Portrait Mural, speaks to Roth's reflective style, encouraging participants to paint a miniature portrait or self-portrait. Participants are provided all the necessary materials to paint portraits or self-portraits onto the bottom of recycled green cardboard berry baskets to be fastened together creating a mosaic portrait mural to be displayed at Fannie's, 28 Railroad Avenue, Warwick, NY throughout the summer.
Roth's artwork will be on display and available for purchase within A Working Studio and in her beautiful blooming garden courtyard.

Railroad Green, Railroad Avenue, Warwick, NY:

Deb Zimmerman will lead visitors in creating a large-scale interactive painting to create a public art piece for Warwick, NY depicting the WSAF 2018 theme of Transformation through the life-cycle of flowers; there will be a children's and an adult's wood canvas for age appropriate skill levels.
Pat Foxx and Mary Bono will demonstrate upcycling plastic grocery bags into "yarn" and show what can be made from it. Visitors can create pom-poms and braided roping to be added to the Wonder Wand.
The Warwick Summer Arts Festival is a nonprofit organization that promotes arts, artists, art education and art appreciation in order to create a vibrant art community. State funding that has played a key part of covering organizational costs and performance fees of the festival has gradually fallen by the wayside since the festival's inception, creating the need for more localized donations from businesses and individual patrons in addition to fundraising events including the Time Transformed Clock Project Auction, April 27, 2018 and the Rock & Bowl battle of the bands and family bowling fundraiser, May 18, 2018 at Pin Street Alley, Route 94, Warwick, NY.
The Warwick Summer Arts Festival is a nonprofit organization that promotes arts, artists, art education and art appreciation in order to create a vibrant art community. Melissa Padham-Maass returns for a fifth year as festival director, celebrating its 18th year. Founded by Elizabeth Reese in 2000, the Warwick Arts Festival has brought crowds to underused parks, created a performance venue on a farm in the middle of the black dirt and established an annual Main Street storefront art exhibit. As Orange County's premiere arts festival, Warwick Summer Arts Festival continues to bring great music to the region as well as commissions and presents original work.   The Warwick Summer Arts Festival is made possible, in part, with funds from the Decentralization Program, a re-grant program of the New York State Council on the Arts with the support of Governor Andrew Cuomo and the New York State Legislature and administered by Arts Mid-Hudson. The Warwick Summer Arts Festival is recognized and supported by the Town of Warwick for its dedication to improving the arts, creating a more vibrant and attractive community.
For more information, please email: warwicksummerarts@gmail.com or visit www.warwicksummerarts.com.