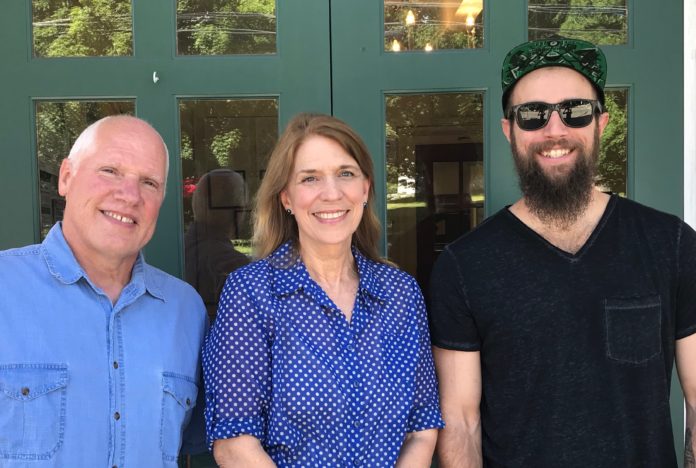 (From left to right: Peter Liepke, Donna Haley, Elliot Belokostolsky)
In April, the Village of Warwick posted a call for a Poet Laureate and Artist of Residence, whose criteria includes one or many of the fine arts discipline.  The creative individuals hidden in Warwick once again stirred and answered, sending us their portfolios and offering their dedication.  We sifted through many exceptional applications and were met with difficult decisions.  Nonetheless, we are pleased to announce our two newest Artist in Residence and Dramatis/Poet Laureate into Warwick. We are proud of their talent and what they will bring to Warwick culture.  The three we have chosen, boast an incredible array of talent. Their artist footprint is seemingly everywhere, yet they are all beautifully distinct from one another, providing us with unique collaborative possibilities.
Our new Dramatis/Poet Laureate is a long time resident of Warwick.  Donna Haley has lived in the village for 27 years bringing her jubilant nature. She has been inspiring and garnering talent in all age groups with her charismatic teachings in The Warwick Actor Training School since 1996.  Donna is a remarkably established actress with an impressively long resume, appearing on Broadway, in commercials, and even in the well-known television show, Law and Order. She is a leader and encourages collaboration, as suggested by her open-porch policy when she paints in her free time.  Donna proposed a creative project based on "Spoon River Anthology" by Edgar Lee Masters as a springboard for a dramatic piece using "Warwick Stories." It is the poetic and theatrical nature of the project that inspired us to choose Ms. Haley as our Dramatis/Poet Laureate for 2018.
Our Artist of Residences blend disciplines from different ends of the spectrum.
Peter Liepke originating from Minneapolis Minnesota, is a fine art photographer and print maker.  He has lived in Warwick for 19 years. He maintains a classical approach using traditional methods of color film processing and rare forms of 19th century print making through his own custom lab at home.  His work has been published around the world and is sold in galleries throughout the United States.
His Artist in Residence colleague, is Elliot Belokostolsky, born and raised in Warwick. He is an up and coming abstract mixed media artist with bold taste and direction.  A graduate of SUNY Orange and Oneonta, his work is driven by a will to escape the confines of reality, barring all rules.  His work evolves through a direct reflection of his mind and emotions, creating work with the purpose and power to invoke.
The Village of Warwick is thrilled to have these new artists representing the future of Warwick's artistic culture.  The diversity in their talent will offer us creative content that will be an inspiration. We have asked the three creative talents to collaborate on an inspired rendition of Ms. Haley's proposal of an Anthology of Warwick Stories. Please stay tuned for how you can be involved!