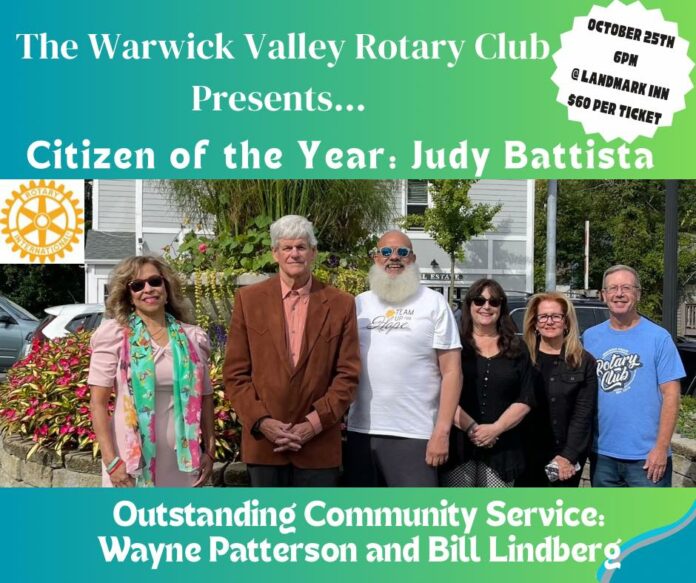 From the Mayor's Office
October 25, 2023
Warwick's Finest
Tonight, we will be gathering to honor three individuals: Judy Battista as the 2023-24 Citizen of the Year, Wayne Patterson, and Bill Lindberg for the 2023-24 Community Service Awards. The event was sold out immediately, which is a testament to their service and the impact that they have had on our community. When I first heard the nominations, I was pleased at the choices because each nominee exemplifies a different aspect of what Warwick is, what we value and what makes us strong. I consider each a friend, so I have seen them through the lens of community service and leadership but also the camaraderie of friendship.
I've worked with Judy on many initiatives over the years. She has been an important liaison to my office and the Village Board to the Hispanic and BIPOC community. When Judy approached Supervisor Sweeton and me about the Warwick Cares Initiative and its intention to create greater awareness to the issue of suicide prevention and the newly created 988 emergency number, we were both immediately on board. We each recognized that giving the initiative municipal support would help strengthen its message but most importantly Judy was at the helm and her ability to organize, and her passion were clearly the foundation for a successful campaign. Judy has been an extraordinary role model for us all and especially to young Latina women who are just discovering a voice. Her work with Saint Stephens Church and Pastor Rolfi's Hispanic ministries and their respective congregations has been a hallmark of community inclusion and outreach. Judy has been a mental health and suicide prevention advocate since the loss of her son Daniel in 2008. Tista4Life, which her family created, promotes scholarship and outreach and successfully reframed loss into a legacy of hope. Judy is also a Board member for the American Foundation for Suicide Prevention which contributed to the nationwide implementation of the 988 emergency call number.  Judy exemplifies the title of Citizen of the Year in her participation and love for our community and it's her sense of humanity and care that is an inspiration to us all.
Wayne Patterson is omnipresent! I kid him that when I see him walking, with pup in hand, he has another worldly presence. I think it's the combination of height, beard, a sense of calm and a beautiful, knowing smile. The work he has performed over the years has been remarkable to say the least. An active Lion and Rotarian and former President of both organizations, a member of the Warwick Valley Prevention Coalition and Wayne is the President for Team Up for Hope an organization he joined in 2019. He is also a participant and is a member of many clubs and committees that focus on youth and healthy decisions such as DARE as well as an advocate Mental Health and Suicide Prevention. I am honored to know Wayne. He's a man with open arms, intelligence and love for his community. He has a kindness and energy that permeates a room, a laugh that's contagious. His work has touched us and given us, through his example, the courage to be true to ourselves and to help others.
Whether driving a school bus, an ambulance, a Corvette or delivering Meals on Wheels, Bill Lindberg is a driver who is confident, observant and above all safe. Known by hundreds of school kids as "Cowboy Bill" because of his love of a good western chapeau! Bill is easily recognizable in a crowd, tall and always well dressed.  I first met Bill when he became a Village Trustee. Over time and working on many initiatives we've become good friends. My favorite projects have been the Village Sesquicentennial's yearlong celebration, the Stanley Deming Park playground and the Skatepark Initiative.  Bill's commitment to Warwick is seen through his 15 years as a driver for Meals on Wheels, his work as coach and umpire for the Warwick Little League, his involvement as past president and active member of the Board of Trustees for the Warwick United Methodist Church. Bill has been a member of the Warwick Fire Department for 26 years and was past president and current treasurer of the Goodwill Hook and Ladder Company and past vice president and current treasurer of the Warwick Fire Department. Bill also serves as a driver for the Warwick Ambulance Corp. A long list of service all done in a quiet, consistent and generous manner.
Our community may be measured by the quality and compassion of its citizens. The reason we live in this remarkable place and have seen it flourish is through the contributions by Judy, Wayne and Bill. I am grateful to call them friends – each of them has taught me life lessons along the way. Their service is matched only by their humility, their goodness flows from their hearts.
Thank you to the Warwick Rotary and the selection committee for an opportunity to recognize and to celebrate three of Warwick's finest citizens.