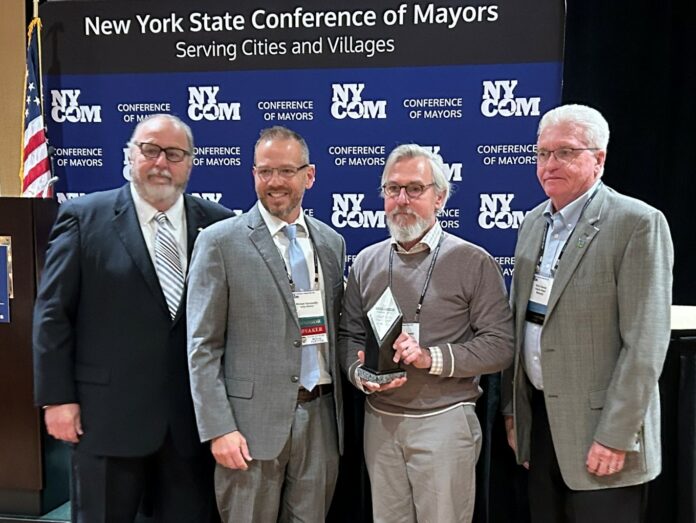 Pictured (L-R): Francis X. Murray, President, NYCOM, Michael Kenneally, Executive Director, Comp Alliance, Michael Newhard, Mayor, Village of Warwick, Barry Cheney, Deputy Mayor, Village of Warwick.
Village Recognized For its Leadership Efforts to Keep its Employees Safe
May 18, 2023
Bolton Landing, NY – In recognition of its commitment to employee safety and creating a safe work environment, the Village of Warwick was presented with the 2023 G. Jeffrey Haber Leadership Award by the New York State Municipal Workers' Compensation Alliance (Comp Alliance).  The award was presented as a testament to the efforts the village has made to minimize workplace injuries and its commitment to the health and wellbeing of its employees.
The award was announced to more than 300 city and village officials from across the state who were in attendance at the Annual Meeting and Training School of the New York State Conference of Mayors and Municipal Officials (NYCOM).  The award was accepted by Village of Warwick Mayor Michael Newhard.
"The village's initiatives to create a safe work environment for its employees, through improvements to its facilities, motor vehicle safety training and its active safety committee, have yielded results.  Its commitment to safety has minimized the amount of time its employees lose due to workplace injury and is truly an example for all of our members," Comp Alliance Executive Director Michael Kenneally said.
Comp Alliance is a workers' compensation group self-insurance program exclusively for New York State municipalities.  Formed in 1994 with eight initial members, the Comp Alliance is approaching 350 members throughout the state.   It is sponsored by NYCOM and the Association of Towns of the State of New York.
NYCOM serves city and village officials by providing training, information services, technical and legal assistance, advocacy, and access to exceptional insurance programs such as the Comp Alliance.