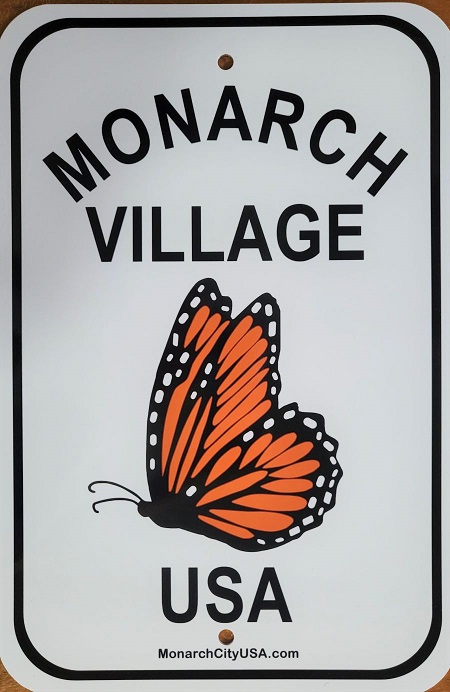 At the May 17, 2023, Village Board Meeting, the Village Board of Warwick approved a resolution proclaiming the Village of Warwick's commitment to ensuring the survival and well-being of monarch butterflies through immediate and future actions.
In recognition of the crucial role played by these beautiful creatures in our ecosystem, the Village of Warwick proudly designates the month of June as Monarch Butterfly Month within our community. This designation serves as a call to action for all residents, businesses, and organizations to join hands and work together in safeguarding the future of monarch butterflies.
The Village of Warwick has achieved a significant milestone in environmental conservation. We proudly declare that the Village of Warwick has become the first community in New York State to be designated as a Monarch Village USA member.
This recognition signifies The Village of Warwick's commitment to the preservation and protection of monarch butterflies, a vital species in our ecosystem. With this distinction, the Village of Warwick joins a select group of communities across the nation dedicated to safeguarding monarch populations and their habitats.
Being designated as a Monarch Village USA member showcases our village's dedication to the cause, as well as our proactive efforts in implementing sustainable practices. The Village of Warwick is taking considerable steps towards creating a welcoming environment for monarch butterflies, providing essential resources for their survival, and promoting education and awareness among our residents.
This achievement is a testament to the collaborative spirit and collective action demonstrated by our community members, local organizations, and public officials. Together, we have embraced the responsibility to protect and nurture these iconic pollinators.
The Village of Warwick's Monarch Village USA designation serves as an inspiration and model for neighboring towns and cities, encouraging them to embark on their own journey towards monarch conservation. By leading the way, we aim to foster a broader movement of environmental stewardship throughout our state and beyond.
Let us continue working together to protect and preserve the monarch butterflies, ensuring a thriving natural heritage for current and future generations.
For further information about the Monarch Village USA designation and the ongoing initiatives in our community, please visit: https://orangeenvironment.com/our-work/pollinator-project/
Together, we can make a difference and create a brighter future for monarch butterflies.