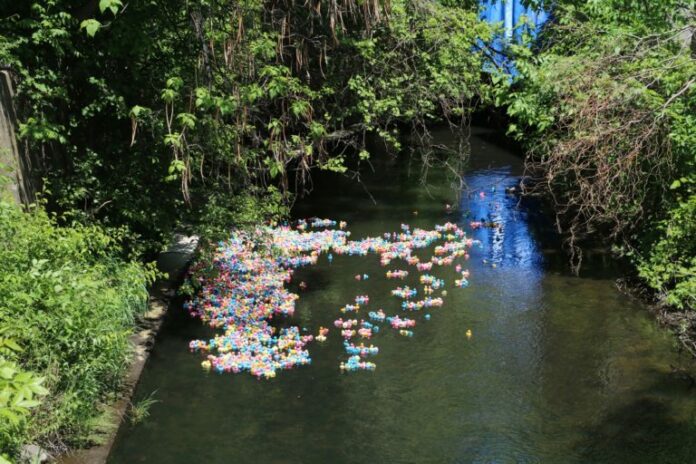 From the Mayor's Office – May 22, 2023
Our Ducks Runneth Over!
May is a busy month, events such as the Duck Derby, Too Good to Toss, The Repair Cafe, Pollinator Festival, and the grand reopening of the Animal Shelter dot our calendar. There are also fun volunteer activities. This past Sunday a group of Warwick Valley Gardeners and I planted the large planters that are throughout the downtown and that was one of many activities throughout our Village and Town. Don't forget to visit hellowarwickvalley.com to see weekly events.
Spring has been beautiful and with Memorial Day on the horizon, summer begins! I have fond memories of being a Boy Scout and marching in the parade; it taught me the true meaning of Memorial Day, that it was a day of solemnity to honor the men and women who served our Country that we have lost. Please remember that as we get closer to the day.
Memorial Day is Monday, May 29, 2023.
As I write this, Veterans banners are going up. Thank you to the Warwick Valley Rotary for this wonderful expression of gratitude. The Department of Public Works crew are the quiet guardians of making sure these details are taken care of. Their handiwork is the before and after of every event in the Village and I'm thankful for their dedication and sense of pride.
The Memorial Day Parade is sponsored by the American Legion Post 214, line up begins at 10:30 a.m., steps of at 11:00 a.m. Parade route is as follows: Line up to begin on Main Street in front of Village Hall, down Main Street to Oakland Avenue to the Warwick Cemetery for memorial services, the parade resume to Galloway Road to the St. Stephen's Cemetery for services and resumes to Forester Avenue to Veteran's Memorial Park for services at the Firemen's Veteran's Monument.
There is a great joy to participate in the daily life of a small town. Parades, events, and reasons to gather reinforce our relationship to each other and to our community. Savor these moments and enjoy the incredible gift to live in such a beautiful place.
The next Village Board Meeting will take place on Monday, June 5, 2023, at 7:30 p.m. at Village Hall, 77 Main Street.