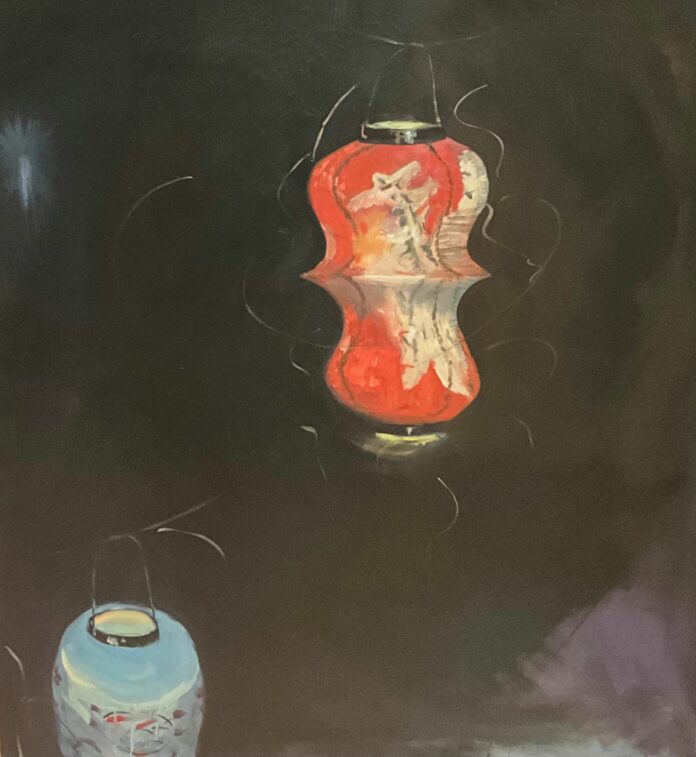 From the Mayor's Office
January 22, 2023 
To the Moon
Today as I write these words it is the celebration of the Lunar New Year. This is a celebration that is also recognized as Chinese New Year.  In China the celebration starts on January twenty second and continues till February first, but it actually goes beyond to February fifth which is the festival of lanterns! Each New Year has a corresponding animal that is part of the ancient Chinese zodiac. 2023 is the year of the rabbit.
Serendipity and maybe a sign of good luck, outside a bunny just pranced by the window that I'm sitting at to write this column! So, a year of good luck and hopefully good fortune for us all. For this post I am using an image of a painting of a lantern I recently unearthed from my starving artist days in NYC!
There is much going on internally at Village Hall. Some days my schedule seems more of a car crash than an even keel, but all gets done. This is the time of preparation and determining the year ahead. The Village budget process has already begun. We are working on a number of grants, initiatives, and new codes including a short-term rental policy. Facility use requests have already started filling up the coming year's calendar. In that respect we are still emerging from the COVID shadow. The events that occur in the Village, parades, festivals, gatherings of so many kinds are critical to our identity of community and indicate that there is a healthy future.
So, to the moon, its waxing and waning. So many songs have been sung and poems written and for good reason. It guides us, lights our path, moves our oceans, and brings out the romantic in each of us. On behalf of the Village Board, I wish you and your families a Happy Lunar New Year. May fortune find you; your health be strong, and you find peace in the Valley that surrounds us. We are in a good place.