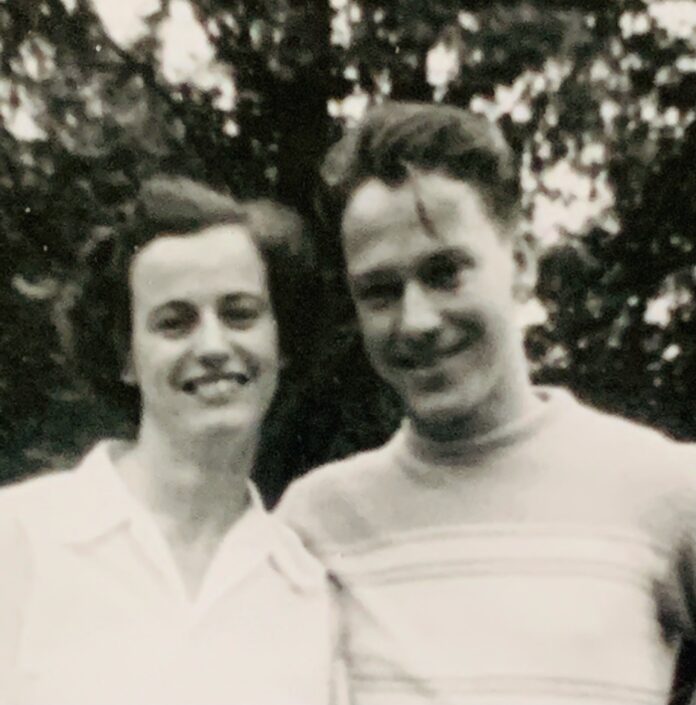 May 8th is Mothers's Day. It's a day we offer gratitude, love, affection and often reflection on the incredible tasks that encompass being Mom.
My mom, Ella Theresa Brown, was born in Highland Falls, NY during the depression. She was one of five and grew up on the top of Brown's Hill named after her family and specifically my grandfather who was Village Judge for over 40 years. It seems from stories that I've heard over time that the Brown children were precocious, spirited, smart and athletic.
Early on in her childhood my mom was nicknamed, "Babe" after her hero, sportswoman and Olympic champion, Mildred Ella "Babe" Didrikson Zaharias. The nickname stuck and as she grew up she excelled in sports of all varieties, golf, tennis, basketball. Along the way, "Babe Brown" became synonymous with athletic talent and for good reason there was an attraction between her and a local lad, Robert "Irish" Newhard – nicknamed for his favorite team, Notre Dame, the fighting Irish! My dad was an athlete and a standout in basketball and baseball. In the Navy he played for its national basketball team and was recruited to the Kingston Dodgers, a farm team for the Brooklyn Dodgers.
A perfect picture of small town romance and youthful dreams . While courting, and while my Dad was serving in the Navy, my mom was enrolled in New Paltz Normal School, a State Teachers College and then started her early career as a second grade teacher. When WW2 ended my dad returned home and went to Union College of Pharmacy and when he graduated they got married. Athletics remained a connection and driving force in their lives. Growing up, my mom was a Mets fan, my dad a Yankee fan! Need I say more!
My folks started a family immediately and in a short span of time three boys were the initial brood followed a little later by three girls! Very much part of the post war, "Baby Boom." My mom surely had her hands full and motherhood was a bit like boot camp but she learned quickly as so many young women across the country. My mom's love of sports and athletic activities emmenated in our household; teamwork, fairness, and cooperation as well as a healthy dose of competition were instilled in each of us as we came up the ranks. My mom's experience as a teacher was a valuable asset for a young family and her focus on giving each of us a strong love of learning was a gift.
Motherhood is no bed of roses and driven by six children definitely offered its joy but challenges. Familial chaos has left us with a lifetime of stories. As a family we were part of the coming of age of our country especially in the 1960's. It's difficult to summarize this exciting and changing time and how it affected families throughout the nation. In our case, while storms were raging outside, my mom knew the importance of helping us shape our paths through education and using our talents. We were of course exposed and absorbed the new norms of freedom, experimentation, questioning and the "booming" youth culture.
When my brother, John passed away at the age of eighteen, it was the greatest sorrow a mother or father could bear. John was a talented athlete, smart, soulful and his loss was in some ways connected to the turbulence of the time. My mom grew through this and focused on her children to make sure they would find their future and that we too would learn through the sadness of loss. This was the strength, resilience and emotional intensity of motherhood.
My mom, "Babe" was strong, funny, passionate and devout. She found solace in prayer and
religion as well as her lifetime love of sports and for that reason, the Ella Newhard college scholarship is focused on the importance of spirituality and athleticism specifically for young women.
This is a snapshot of a woman who navigated the shifting ground of being a mom and nurturing a family and I'm grateful for being part of the experience and what sometimes felt like an experiment. In the end, it is the joy that we remember, the tenderness of the heart and the motivation of a woman on the brink of child induced madness. It wasn't perfect but it was totally wonderful.
On behalf of the Village Board of Trustees, I wish all our Moms and Mothers to be, a wonderful Mother's Day!