One of the pleasures of this time of year are discovering the many ways to cook or bake an apple! Being in Apple Country surely inspires and motivates many to make a mess in the kitchen.
This year I've been transforming the "organic" but not so pretty apples from our very old apple trees into applesauce and apple butter. In the process I'm also learning how to preserve and can. With my wife's birthday around the corner, I'm gearing up to make one of my favorite recipes, a tarte tatin which is a fun upside-down apple tarte. The list of recipes is long – I may try a chutney recipe and see where that leads…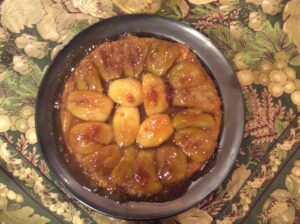 Apples everywhere! If you come downtown, you will see the banners along Main Street and Oakland Avenue promoting a local fundraising program called "An Apple a Day – keeps the doctor close to home, and that's the way we want it!"  The campaign is to help support St. Anthony Community Hospital which is a member of the Westchester Medical Center Health Network. Through donations they are able to continue their investment of bringing state of the art care to our community. There are many ways you can be part of this initiative. Donations can be made on Facebook or by going to Give.WMCHealth.org/appleaday. If you have a pocket full of loose change many of our local shops have a coin drop at their counter. Every dollar makes a difference! Truly a worthwhile cause.
Of special note, the logo was designed by local artist and teacher Rocco Manno. If you look closely, the bite of the apple uses the silhouettes of many of our historic buildings.
Don't forget Makers Market and the Children's Book Festival are happening this weekend.