HALLOWEEN COSTUME PARADE
The Village of Warwick Recreation Department will be hosting a spooktacular Halloween Costume Parade on Sunday, October 31, 2021. Lineup will take place at 4:30 p.m. on High Street. The parade will start at 5:00 p.m. and proceed down Main Street. The parade will end at the railroad tracks on Main Street where families can then disperse and begin trick-or-treating.
VIRTUAL HALLOWEEN COSTUME CONTEST!!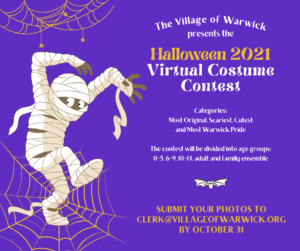 The Village of Warwick will once again be hosting a virtual Halloween costume contest beginning Thursday, October 28, 2021, through Halloween night, Sunday, October 31, 2021.In lieu of the costume contest being cancelled this year due to COVID-19, we ask that you dress up in your spookiest, scariest, and most creative costumes and submit your photos, including your name, age, and costume category, to clerk@villageofwarwick.org.
This years' costume contest will include the following categories:
Most Original
Scariest
Cutest
Most Warwick Pride
The contest will be divided into the following age groups:
0-5
6-9
10-14
Adult
Family Ensemble
The winners will be announced just shortly after Halloween and the winning photos will be posted on the Village's website www.villageofwarwick.org and Facebook page and local newspapers.We can't wait to see you in your Halloween best!
VILLAGE RESIDENTS INVITED TO "SCARE THE MAYOR"
Village residents are invited to try their best to Scare the Mayor for the Village's Fifth Annual "Scare the Mayor" Contest. This is a contest for the scariest, most frightful, scream-worthy Halloween decorated house in the Village of Warwick. The contest is free to enter, and Village of Warwick residents are eligible to participate. To register your house, please call Village Hall at (845) 986-2031 or email clerk@villageofwarwick.org by Thursday, October 28, 2021.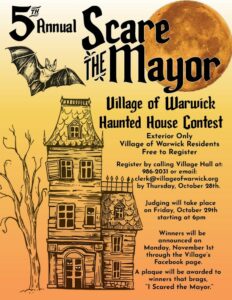 On Friday, October 29, 2021, starting at 6:00 p.m., all participants will receive a visit from Village of Warwick Mayor, Michael Newhard, and guest judges who will deem the ghouls and ghosts who scare them the most.
First, Second, and Third Prize winners will receive a plaque that brags, "I Scared the Mayor." Winners will be announced on Facebook. So, string those purple and orange lights with care, spread cobwebs as far as they can bear, creepy skulls and candy corn too, anything spooky really will do. The Mayor anticipates the delights from all the scary frights, and they look forward to celebrating the best that residents can offer.
HALLOWEEN CURFEW & ROAD CLOSURES
 There is a Halloween curfew for all persons under the age of 18 unless accompanied by a parent or guardian on all Village streets and parks and other public areas in the Village of Warwick between the hours of 9:00 p.m. on Saturday, October 30 to 6:00 a.m. on Sunday, October 31, 2021, and again on Sunday, October 31, from 9:00 p.m. to 6:00 a.m. on Monday, November 1, 2021.
 The Village will once again close off Oakland Court, Welling Avenue and Orchard Street on Sunday, October 31, 2021, from 4:00 p.m. until 9:00 p.m. High Street will be closed on October 31, 2021, from 4:00 p.m. to 5:00 p.m. for the parade lineup.