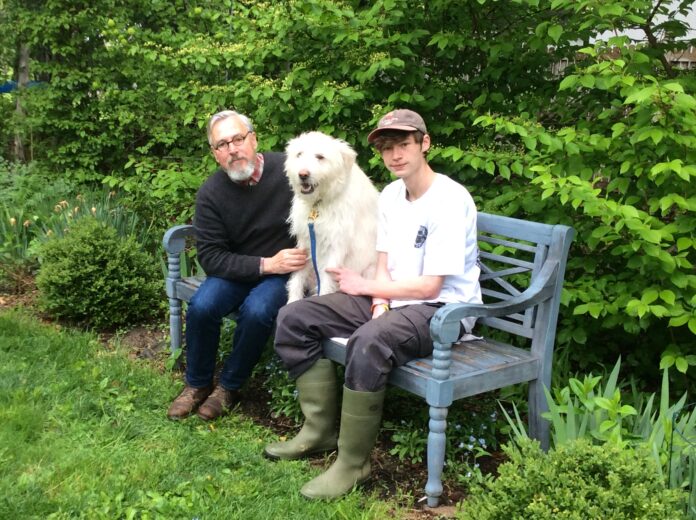 Last week I wrote about my son Henry's Birthday and his usurped Graduation Ceremony. Because of COVID, we have not seen him very much the past year especially due to out of state travel restrictions. Now that these restrictions have been lifted and with the thought we would not see him because of his school workload and his upcoming trip to Washington DC we decided to visit him for his birthday. A road trip!
Normally when we go away a good friend checks in on our dog, Hugo, giving him food, exercise, and lots of affection. This time though our friend was ill, and the list of canine caretakers was short so we decided that Hugo would come with us. Hugo is a 60 lb rescue pup. People always ask what breed he is, I describe him as a pedigree mutt! Hugo loves Henry and Henry loves Hugo, this would be a great meeting of comrades, a birthday treat for both.
Hugo is used to car travel around Warwick but an extended trip, three and a half hours, we knew was definitely a challenge.  So, we decided it was best to do the trip in a measured way stopping every 45 minutes. The amount of traffic activity on an interstate is overstimulating for a human but for a dog whose main job is to protect us, a bit overwhelming. My wife sat with him and calmed his nerves and the tour of every rest stop between here and Massachusetts helped keep him calm. Thus, a three-and-a-half-hour trip became five hours.
We reached our destination in western Massachusetts where Henry was visiting a good friend. The reunion of Henry and Hugo was worth the long trip and although our time with our son was brief as parents and pup, we relished every minute.
The trip home was just as long with as many stops but Hugo was calmer, happier maybe with the satisfaction that he saw his beloved companion. And we were calmer, happier after seeing our beloved son!  A road trip to remember.
                                                                *
Congratulations to the Warwick Valley Gardeners whose recent Countryside Garden Tour was a great success. Our gardeners do so much in our community making it beautiful and memorable. A heartfelt thank you for all that you do!
                                                                *
The next concert on the lawn at Stanley Deming Park will be on July 17th. No Soap Radio will be performing, and the show starts at 7:00 p.m. Please use the convenient parking at the Park Avenue School parking lot on Burt Street.
The next Village Board meeting will be held on Monday, July 19, 2021,  7:30 p.m. at Village Hall, located at 77 Main Street in Warwick.