Recently I received a letter from my 7-year-old neighbor. It was hand delivered to my door! This is what it said: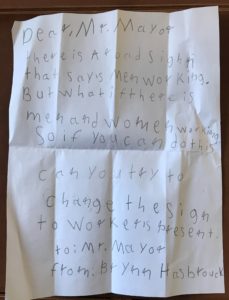 Dear Mr. Mayor,
There is a road sign that says Men Working.
But what if there is men and women working?
So, if you can do this try to change the sign to
Workers Present.
From: Brynn Hasbrouck
I've received many letters and many requests, but this note came with clarity, innocence and acute observation, especially from one so young.  I called upon our DPW Supervisor, Mike Moser and read him the letter and I asked if this could happen? As aman who accepts much larger challenges he confidently said, "No problem." Luckily, the Town of Warwick has a sign shop and by mid-day a sign was delivered!
Yesterday when I got home from work, I walked across the lawn to my neighbor's house and knocked on the door. Brynn answered, I greeted her and said, "Hi Brynn, I got your letter and I wanted to show you something". I pulled the sign from behind my back. My young neighbor stood there in shock. She was delighted and called for her Dad who had no idea that his daughter had written a letter. Meanwhile as this was going on Brynn's Mom was running to get to work – she's a nurse at St. Anthony's headed to the late shift. Luckily, she caught a glimpse of some of the fun!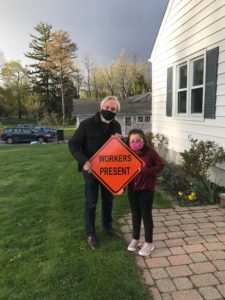 Local Government has an immediacy, maybe a special connection as this tale illustrates. In the coming months we will be working on the Villages Comprehensive Master Plan. A very important planning document that describes the vision and desires that help form our community. My hope is that we all follow Brynn's example and have a voice. If you have a moment please go to the website created specifically for this initiative www.warwickplan.com or go directly to https://www.surveymonkey.com/r/WarwickSurvey and take a 3 minute survey.
The next Village Board meeting will take place on Monday, May 3, 2021, at 7:30 p.m. and will be held through Zoom videoconference and may be viewed live by the public on the Village of Warwick, NY YouTube Channel.