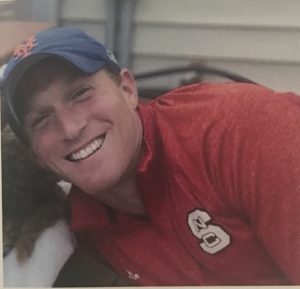 Chief Warrant Officer 2  Daniel Prial
To Be Loved and To Love
When we received word about the passing of Chief Warrant Officer 2 Daniel Prial, it was difficult to process, hard to understand or believe what had occurred. Immediately, our community responded with empathy and signs of support. The past two weeks have been filled with acts of kindness and love towards Dan and his family. The loss they have experienced is profound, and these gestures are part of the connection and speak of the deep rooted love we have for each other that is a part of Warwick.
Dan Prial lived a remarkable life. He grew up here, breathed this air, experienced the wonder of a close knit town. He crossed many paths, touched many lives, from early schooling at St. Stephens to Warwick High School as a student and athlete.  As the son of a NYC firefighter, he experienced the tragedy of 9/11, and as a ten year old, it left an impression that spurred his decision to go to West Point and to pursue a career in the military. While these early experiences shaped him, most importantly he was surrounded by the love and devotion of two extraordinary parents who gave each of their children the attention and love that recognized their uniqueness.
On Saturday, Dan was put to rest surrounded by family and friends. In the brilliant morning sun, the interior of St. Stephens Church glowed. It was filled with warmth, joy and tenderness for this young man. Father Marcoux, Dan's brother and his father offered an intimate tribute to a very special and beautiful young man, a soldier, a hero, a son and a brother. Dan shared the distinct qualities of exuberance and optimism combined with humility and love for his family and country. As his dad said in his eulogy, "He loved his family and friends. Danny wasn't a busy person that made time for family, friends and loved ones. That's what he was busy doing."
For this moment, I believe we all felt close to this young man whose essence enveloped the sanctuary. We were in the "community of Dan" as his dad so aptly put it. In death, we experience great sadness and loss. In this case, these feelings are undeniable but somehow soothed by the spirit of something more powerful than ourselves. Maybe it's the "completely electric" feeling that Terence spoke of when his brother entered the room. Dan left us with a precious gift that we should all recognize and emulate, as his dad stated, "He knew love, he knew what it was to be loved and to love."
On behalf of the Village Board of Trustees, Village Staff and Department of Public Works we wish the Prial Family our sympathy, love and condolences.