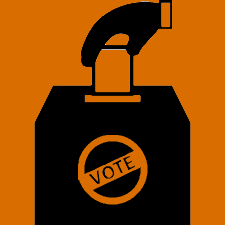 DOWNLOAD THE VILLAGE OF WARWICK FORM HERE
(Village form is for use in the Village of Warwick General Election. These forms get mailed to the Village Clerk prior to the election.)
DOWNLOAD THE NYS FORM HERE
(These forms get mailed directly to the County Board of Elections.)
NYS Voter Registration English
NYS Voter Registration Spanish
Instructions:
 Who may apply for an absentee ballot?
Each person must apply for themselves.  It is a felony to make a false statement in an application for an absentee ballot, to attempt to cast an illegal ballot, or to help anyone to cast an illegal ballot.
Information for military or overseas voters:
If you are applying for an absentee ballot because you or your family are in the military or because you currently reside overseas, do not use this application.  You are entitled to special provisions if you apply using the Federal Postcard Application.  For more information about military/overseas voting, contact your local Board of Elections (845) 360-6500 or refer to the Military and Federal Voting sections at:  http://www.elections.state.ny.us/Voting.html
Where and when to return your application:
Applications must be mailed seven days before the election, or hand-delivered to your Village Clerk by the day before the election.  The address to mail this application is:
Village of Warwick, 77 Main Street, Warwick, NY 10990
Options available to you if you have an illness or disability:
If you check the box indicating your illness or disability is permanent, once your application is approved you will automatically receive a ballot for each election in which you are eligible to vote, without having to apply again.  You may sign the absentee ballot application yourself, or you may make your mark and have your mark witnessed in the spaces provided on the bottom of the application.  Please note that a power of attorney or printed name stamp is not allowed for any voting purposes.
When your ballot will be sent:
Your absentee ballot materials will be sent to you at least 10 days before the Village election in which you are eligible to vote.  If you applied after this date, your ballot will be sent immediately after your completed and signed application is received and processed by the Village Clerk.  If you prefer, you may designate someone to pick up your ballot for you, by completing the required information in section 5.  Contact your Village Clerk if you have not received your ballot at (845) 986-2031 ext.102.