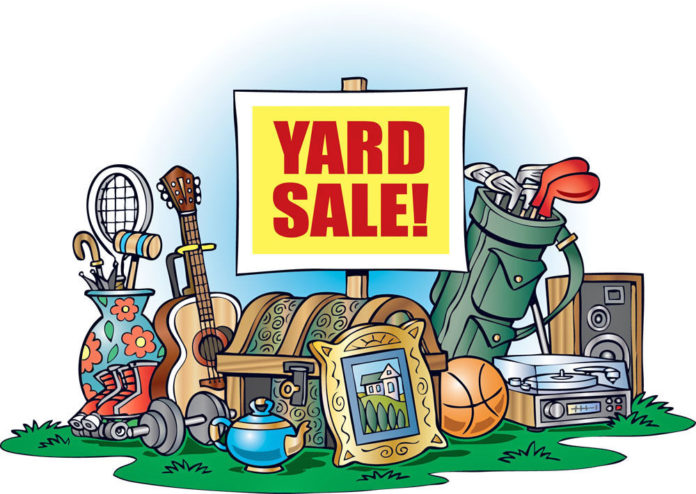 *Cash must be exact change for each fee amount or two separate checks*
Permits will be issued for no more than three (3) consecutive days, between the hours of 8:00 a.m. and 8:00 p.m., and for no more than two (2) garage sales in any calendar year. PLEASE NOTE THAT THE NON-REFUNDABLE AND REFUNDABLE PAYMENTS MUST BE MADE WITH TWO SEPARATE CHECKS OR TWO SEPARATE CASH PAYMENTS IN EXACT CHANGE FOR BOTH FEES. THE VILLAGE CLERK CANNOT MAKE CHANGE TO SEPARATE THE DEPOSIT FROM THE FEE.

Upon issuance of the permit, the Village Clerk shall deliver four (4) permit stickers to the applicant, which shall be affixed to any sign advertising such sale. Maximum size of any sign shall not exceed 11 inches by 15 inches.
Signs must be removed within 48 hours following the conclusion of sale. Upon return of all four permit stickers by the applicant to the Village Clerk within 48 hours following the sale the deposit shall be returned. Failure to return all permit stickers to the Village Clerk within 48 hours shall result in a forfeiture of such deposit.
Signs must be freestanding signs, staked into the ground and may not be on any Village owned property, such as the Sanford Monument at the intersection of Main Street and Colonial Avenue.
Signs may only be placed on your own property or a property where you have the owner's permission and should be placed on property side of sidewalk if a sidewalk is present.
Signs may not be placed on corners.
Signs may not be attached to any utility poles or Village street or traffic signs.
Orange & Rockland Utilities has issued a warning that staples, tacks or nails on poles present a potential hazard to O&R employees working on the poles.
Non-conforming signs will be removed by the Village and disposed of and deposit could be forfeited.