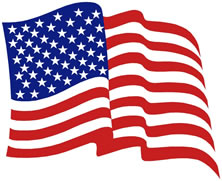 What leads up to today – to this moment that we gather to honor, memorialize the legions of American soldiers is part of our time-honored tradition. It is also about the connections we have as a community, how we share and grow through each experience along the way.
The hundreds of flags at the grave of each soldier is an activity that connects our Veterans with our Scout volunteers. Our Public Works Department has hung flags and flower baskets downtown. They've swept and patched the roads, hydrants have been painted, grass has been cut; all the details have been taken care of. Our florists have been busy creating wreaths for our ceremony. Veterans and firemen have cleaned and planted around each monument. The poppy is a proud symbol of remembrance and the Woman's Auxiliary has been selling poppies to raise money for our Veterans. Our friend Roger Vanderplatt has adorned the front lawn of Lazear-Smith with hundreds of flags. My son and I fill the planter at the corner of Galloway with flags, it has become our father and son tradition. Throughout our town our residents display flags in front of their homes. Our high school band members have practiced, our scouts have prepared, our speakers have made notes to find the right words of veneration and care, our fire department are dressed in their best blues, our Policemen are at each intersection to insure safety and a seamless route, our ambulance is always watchful and is always there. Folks line the streets and wave and show their love and respect for our Veterans – they remember their own and remember the reason we honor them. This is Memorial Day in Warwick, New York.
All of these actions are part of what we do, they are demonstrations of loyalty and patriotism. Each involved person has created this Memorial Day. To think that similar activities are done in every community across our country gives us a greater understanding of the impact and magnitude of simple acts.
Let us remember that the seeds of gratitude start small but through the magnified lens of our country and its human spirit becomes a chorus of strong voices. It is in unity and clarity we say that you, Dear Soldier, have given of yourself for a greater cause, it is a sacrifice for the intrinsic values of America. These are not just about the profound notions of democracy but more importantly the will to protect it and to insure a free country. You have given of yourself for these ideals and for this we say thank you. For your acts of courage, we honor and remember you as a soldier and a hero. We are humbled and we are grateful.
***
The next Village Board meeting will be held on Monday, June 3rd at 7:30 p.m. Village Hall, located at 77 Main St. in Warwick.