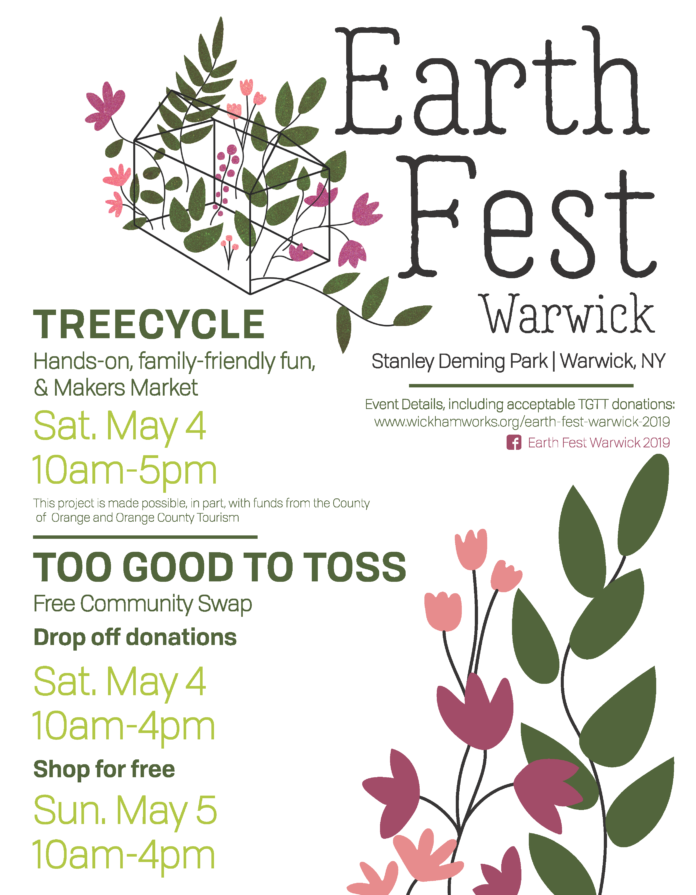 Come and participate in this year's Earthfest!
If you'd like to volunteer for Treecyle sign up here
For more information contact
Melissa Shaw-Smith
(917) 922-0943
---
If you'd like to volunteer for Too Good To Toss sign up here
For more information contact
Samantha Scalpone
( 845) 477-5010
---
Residents of the Hamlets, Village and Town of Warwick may donate useful goods, in good condition, to Too Good To Toss, FREE Community Swap
The list below are items that we can NOT accept
For more information contact
Elizabeth Knight Moss
(845)741-3646
Too Good To Toss can NOT accept ANY of these items
Air Conditioners
Appliances, Large– freezers, refrigerators, stoves, washers, dryers, etc.
Barrels
Batteries
BBQ & Charcoal Grills
Bed Frames
Boats
Box Springs
Books of any kind EXCEPT Children's and Young Adults
Building, Construction, Plumbing Materials
Car Seats
Chemicals of any kind – fertilizers, pesticides, photo, pool, etc.
Copied, Bootleg, Pirated Media
Computers
Cosmetics, Beauty, Hygiene Products
Cribs, Bassinets
Drain Oil
Electronics – Computers, Copy & Fax Machines, DVD players, Phones, Printers, Tuners (Take to The Computer Guy at 2 Overlook Drive)
Exercise Equipment – Large Scale – Elliptical, Leg Press, Nordic Track, Rowing Machine, Treadmill, etc.
Explosives
Flammable Products
Food & Beverages
Garbage
Hazardous Waste
Industrial-Use Items
Light Bulbs
Newspapers
Magazines
Mattresses
Motor Oil (collection and recycling at Leo Kaytes Ford, 145 Route 94 South)
Paint
Outdoor Playsets
Safety Equipment –bike helmets, etc.
TVs
Tires
Underwear
Upholstered Furniture
Vehicles
VHS Tapes
Wall-to-Wall carpeting
Weapons