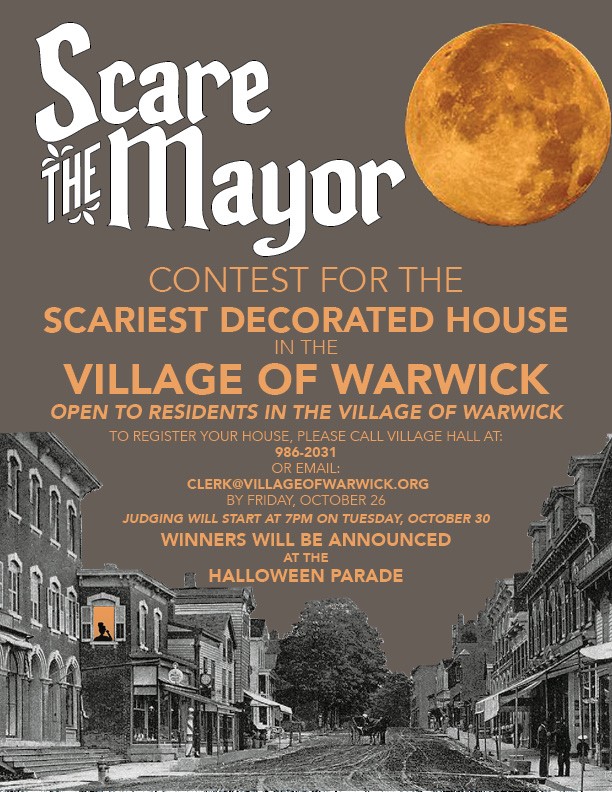 Village residents are invited to try their best to Scare the Mayor for the Village's Second Annual "Scare the Mayor" Contest. This is a contest for the scariest, most frightful, scream worthy Halloween decorated house in the Village of Warwick. The contest is free to enter and only those living within the Village of Warwick are eligible. To register your house, please call Village Hall at (845) 986-2031 or email clerk@villageofwarwick.org by Friday, October 26.
This event was introduced last year as part of the Village's Sesquicentennial and is back this year by popular demand. The winners of last year's contest were Karl Scheible of Oakland Ct. in Second Place, Michael Becker of Orchard St. for Third Place, and The Kid Mayor Choice Award went to Peter Larkin of Linden Place.
First Place winners of last year's contest, Don Presutti and Nicole Moellman will be guest judges this year. On "Mischief Night," Tuesday, Oct. 30, starting at 7p.m., all participants will get a visit from Village of Warwick Mayor Michael Newhard, Kid Mayor Daniel Alquezada Madero and guest judges who will deem the ghouls and ghosts who scare them the most.
First, Second and Third Prize winners will receive a plaque that brags, "I Scared the Mayor." Winners will be announced at the Railroad Green on Wednesday, October 31 as part of the Halloween Parade.
So string those purple and orange lights with care, spread cobwebs as far as they can bare, creepy skulls and candy corn too, anything spooky really will do. The Mayor and Kid Mayor anticipate the delights from all the scary frights and they look forward to celebrating the best that residents can offer.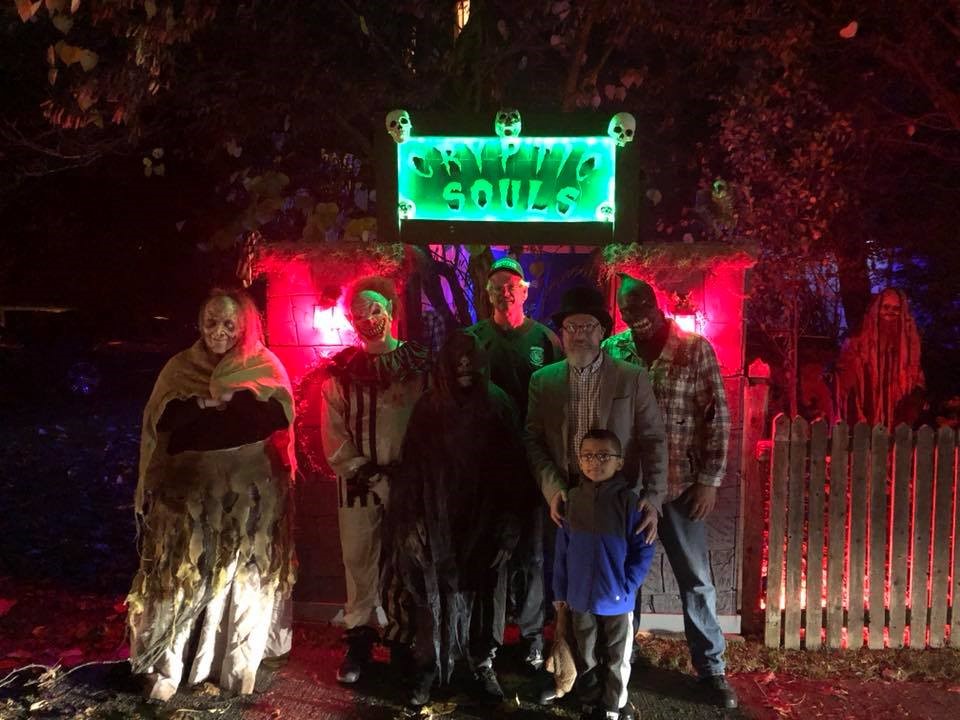 Photo: First Place winners of 2017 Scare the Mayor, Don Presutti and Nicole Moellman with Trustee Lindberg, Mayor Newhard and Kid Mayor, Daniel Alquezada Madero